About Us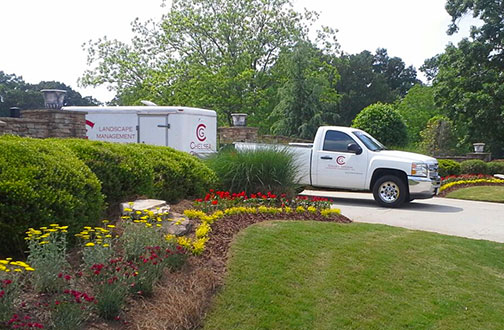 Chelsea Gardens Landscape is celebrating over a decade of working with some of North Atlanta's premier homes and businesses. Chelsea Gardens Landscape has become one of the area's preeminent lawn maintenance and landscape design companies.
Founded in 2000 by Larry Whitten and Jamey Whitaker. In 2008, Mr. Whitaker became sole proprietor because he recognized what more Chelsea Gardens Landscape could offer their customers. Chelsea Gardens Landscape is now a family owned business guided by home grown family values
Chelsea Gardens Landscape is located in Lawrenceville, Georgia with six crews servicing the North Metro Atlanta area. Our core customers range from "high end" residential customers to premier commerical properties. We focus on providing landscaping services that exceed our customers expectation through effective and consistent communications and staying with current landscaping trends.
It has always been our goal to "WOW" our customers. Let us know what we can create for you!
Our Crew
Chelsea Gardens Landscape employs hard working professionals who go through a rigorous training period as well as a thorough background check. Chelsea Gardens Landscape only wants professionals who have your best interest at heart.
For Your Home
Your landscaping dreams are important. Making them come true, even more so. For over a decade, the management and ownership of Chelsea Gardens Landscape has been working with clients to create one-of-a-kind, dramatic and beautiful landscaping designs that fit every budget. Chelsea Gardens Landscape listens carefully to your visions and ideas, while providing expert advice and guidance, to help your landscaping dreams will blossom to life. To ensure your complete faith and peace of mind, we provide detailed, written proposals before any work is started. Our specialty is making the dreams of every day homeowners come true. All work is warrantied, and live plants come with a "no die" guarantee.
For Your Business
Your business means a lot to you and we understand "Image is Everthing" and Chelsea Gardens Landscape will create a professional image for your business. Establishing a partnership with Chelsea Gardens Landscape means you will be working directly with the company's ownership, headed by Jamey Whitaker, with more than 25 years of experience at all levels of landscaping. Chelsea Gardens Landscape services include state-of-the-art overall project design and consultation, construction and installation, ongoing maintenance, and more. All work is warrantied and the company is bonded appropriately.
Call 770.822.1363 for your custom, risk-free consultation with the Chelsea Gardens Landscape experts.