Irrigation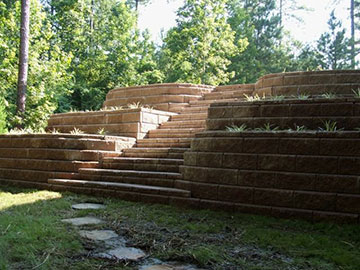 Hardscapes
Chelsea Gardens Landscape is the premiere installer of hardscape enhancements such as concrete/brick pavers and retaining walls. CGL's workers professionals pride themselves on doing only the highest quality work to ensure aesthetic appeal and functionality.
We are constantly staying up to date on new and different techniques. We would love to come to your home and see what unique ideas we can create for you! If you can dream it, we can design and install it. It is truly wonderful that on nearly every project I hear, "It looks better than I ever dreamed." Let's dream it together!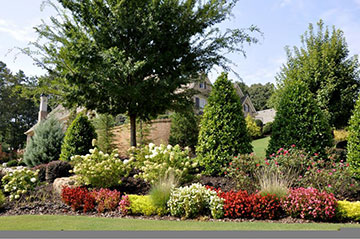 Landscape Enhancements
Chelsea Gardens Landscape maximize visual impact and reduce maintenance costs to enhance your site and preserve its long-term health. Our landscape professionals take a consultative approach to commercial landscape design, creating environments that fit your vision and your budget.
Whether your property needs renovation, restoration, or a complete site makeover, we deliver creative designs and coordinate installations with minimal disruption.
Our Services include:

Site assessment by a commercial landscape architect
Design and installation
Site upgrades and updates
Complete site makeovers
Long-term site planning
Accenting entrances or special features
Safety improvements
Improved site traffic flow
Tree and shrub care
Hardscape installation
Seasonal color displays
If you would like to learn more of our Landscape Enhancement services, please contact us today at 770.822.1363.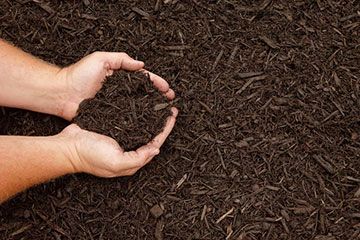 Ground Covering
Ground coverings greatly simplify your lawn maintenance chores. Ground Covers include a variety of materials that you use to cover the bare soil in your gardens. Most often you think of it as organic materials such as wood chips, cedar bark or pine straw, but it also includes materials like stone and gravel. Adding an adequate layer of ground covering pays off by reducing weed growth and water run-off. It slows evaporation and improves water absorption when it rains or you turn on the sprinkler as well, improving soil quality. Organic types enrich the soil as they decompose protecting plant roots from hot and cold temperature extremes and sudden fluctuations. Ground coverings add/or color and texture as part of your overall garden design.
Chelsea Gardens Landscape offers and installs a wide variety of ground covers that we can spread in any environment.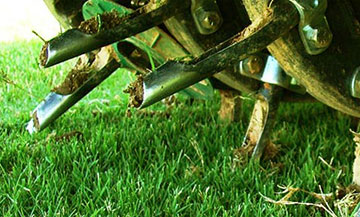 Aeration / Over Seeding
Turf grasses growing in our area benefit greatly from annual lawn aeration to reduce thatch buildup and more importantly, relieve soil compaction. This service will help improve the recycling flow of air, water, and nutrients to the root system. This, in turn, will help to rejuvenate your grass by allowing the roots to grow deeper, creating healthier grass plants and keeping your lawn thicker and greener.
This service is performed with commercial grade core aerators that can apply up to 1200lbs of hydraulic down pressure, thus removing the optimal core length.
Over Seeding is the process of using a broadcast spreader to apply cool season grass seed, such as Fescue, on the surface of the ground after a lawn has been aerated. Overseeding ensures new growth and a thicker, more vibrant lawn.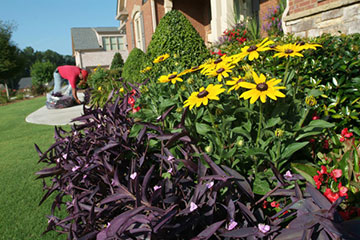 Asset Improvements
We believe your home is your castle — enjoy it, customize it, make it reflect your taste and values. But, there's one area where being too individualistic carries risk: landscaping for curb appeal. That's why homeowners associations often have exacting rules about landscaping.
And it's not just HOAs that care. Most home buyers seek landscaping that adds "functionality and resale value," rather than "frills and lifestyle," according to the National Association of Home Builders recent "What Home Buyers Really Want" report.
Good landscaping can add up to 28% to the overall value of a house, and cut its time on the market 10% to 15%. Even taking your landscaping to the next level, upgrading from "good" to "excellent," in terms of design, condition, and placement, can add 6% to 7% to a home's value, according to a Clemson University study. But don't landscape merely to flip a house instead, landscape for your enjoyment knowing that you're making a great investment.