Services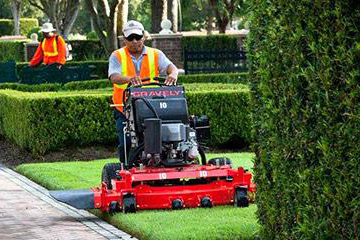 Contract Yard Maintenance
We are proud to offer top-notch lawn maintenance services to homes across the Metro Area. Lawn maintenance is something of a chore to most people, but not us. We view lawn maintenance as a blend of art and science, to be practiced to perfection.
Every yard is unique, which is why we custom tailor our approach to best meet the specific needs of your lawn. Our unique lawn maintenance approach takes into account variables like grass variety, varying mowing patterns, weed proliferation, and ideal cut height.
Our lawn maintenance technicians are skilled, independent workers who have deep expertise in lawn care and maintenance. They know grass, and will deliver a perfect cut each and every time. They will also trim hedges, fix sprinklers, and edge your lawn. Most importantly, they stand by their work and you will be happy to stand by it too.
Chelsea Gardens Landscape offers a variety of lawn maintenance programs that will help your lawn look it's very best. Whether you live in a home or want your business to look it's polished best, contact CGL today to get a free estimate on your monthly maintenance - 770.822.1363.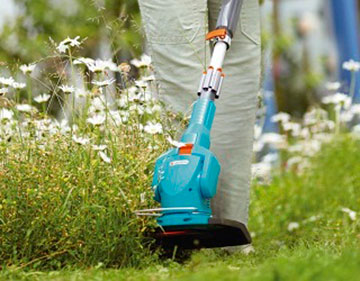 Mowing, Trimming & Edging
Chelsea Gardens Landscape knows you take pride in your home or business. CGL pride ourselves on using the highest quality equipment along with our highly trained and experienced lawn care specialists to service your lawn.
Proper lawn maintenance includes using professional equipment set at the appropriate mowing, trimming, and edging heights with sharpened blades. This promotes a healthy, thick, well rooted, weed free turf which is aesthetically pleasing and enjoyable in numerous ways. Trimming of obstacles and edging cement surfaces provides the finished/manicured look.
Please call us at 770.822.1363 today for a free estimate!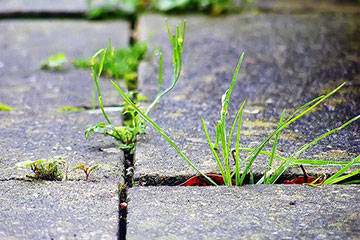 Weed Control in Beds and Hard Services
Weed management in landscape plantings is often made difficult by the complexity of many plantings: usually more than one species is planted in the landscaped area and there is a mix of annual and perennial ornamentals.
The great variety of ornamental species, soil types, slopes, and mulches creates the need for a variety of weed management options. There are also considerations regarding public concern about the use of chemicals to control weeds and their effect on water quality if the herbicide moves offsite through runoff. The choice of a specific weed management program depends on the weeds present and the types of turf or ornamentals planted in the area. Because of the many variables, weeds in landscape plantings are usually controlled by a combination of non-chemical and chemical methods.
The Chelsea Gardens Landscape professionals can eliminate any type of weed control in any environment.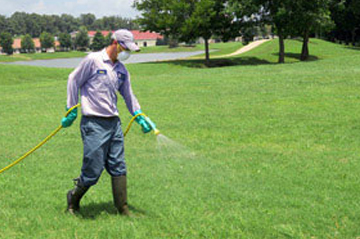 Weed Control in Turf
Our lawn care technicians can target almost every type of weed that may plague your lawn. With extensive education and licensing, we are able to provide the most effective chemical lawn treatment such as fertilizers, pre/post emergent, herbicides as well as fungicides. We are also experts in grassy weed control when an undesirable grass is threatening to infest your turf. Depending on the severity and type of weed in your lawn, we use pre-emergent weed control as well as multiple visits to eliminate weeds as well as to keep weeds that may have already germinated from returning. We apply, at minimum, five applications per year to your lawn. Our contracted customers can count on our chemical program to keep their yard the greenest and healthiest.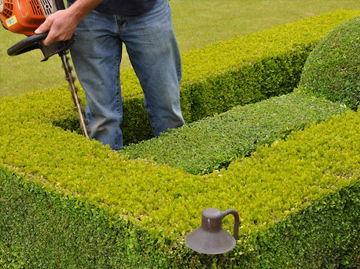 Pruning of Shrubs & Topiary Pruning
Topiary represents one of the most expressive forms of landscaping. Topiary involves the cutting of shrubs such as boxwood or yew to form interesting shapes as a decorative accent to the landscape. Topiary requires patience, perseverance and excellent pruning tools to achieve the proper plant shape. Topiary trimming tools include hand-held clippers as well as tools to remove larger areas of the plant during shaping.
Chelsea Gardens Landscape uses the right tools for the right environment and we constantly maintain each tool so it will be in top shape when we trim and form your landscape.
Please call Chelsea Gardens Landscape to receive a free estimate - 770.822.1363.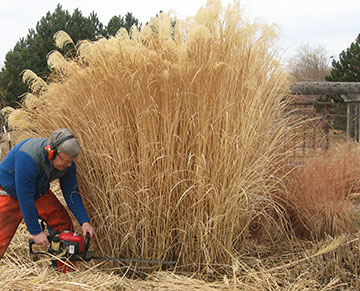 Cutting Back of Ornamental Grasses
As a part of every Chelsea Gardens maintenance contracts, ornamental grasses are cut back every winter to allow new blades to grow in.
We have the right equipment, experience, and knowledge of how and when to cut ornamental grasses to the right height. We'll even haul away what we cut down.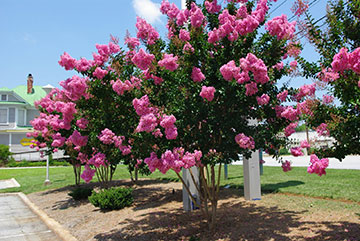 Crape Myrtle Pruning
Few flowering plants can compete with crape myrtles for vibrant summer colors. They thrive in heat and humidity and are drought tolerant to boot.
Though many people plant crape myrtles, few people prune them correctly. Correct pruning yields gracefully shaped trees with more blooms that are held upright on strong stems. And flowers arrive earlier than do those on un-pruned or mis-pruned plants.
Crape bloom on new growth so, they need to be pruned in early spring before they break dormancy. Although some gardeners prune their crape myrtles in the fall, CGL highly recommends early Spring.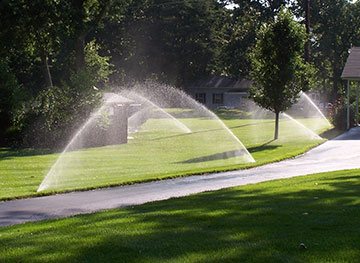 Irrigation Monitoring
Soil water plays a critical role in the life of plants. They need adequate water to develop a strong root system and for cooling themselves. Irrigation is about proper timing and maintaining the available water at the appropriate amounts. When soil water drops below proper levels, crop stress develops that lead to loss of both crop quality and yield. Over irrigation contributes to erosion, loss of nutrients and increase input costs.
Monitoring can make a difference. Chelsea gardens Landscape can keep track of your soil water levels and local weather conditions to provide objective criteria for irrigation decisions. That means growers can make informed decisions to help ensure irrigation is applied at the right time. Benefits include: minimize water stress to plants, maximize potential yield, and reduce operation costs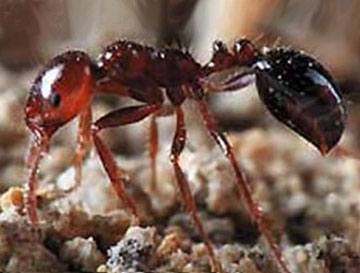 Fire Ant Control
Fire Ants can't be eliminated entirely because it's not possible to treat all areas that are infested. Thus the goal of current integrated pest management programs is to suppress fire ants as much as possible with biological control methods and use insecticides only where it is economically and environmentally justifiable to do so.
There may not be one "best" method for fire ant control, especially in large areas. Chelsea Gardens Landscape objective is to find the method or methods that are cost effective and environmentally sound. We strive to do our best to eliminate fire ants at the nest killing the queen and in-turn, killing off the entire mound.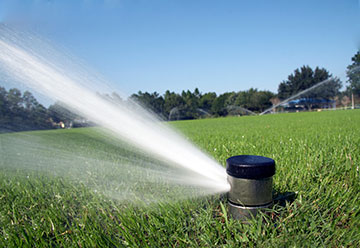 Irrigation
Chelsea Gardens Landscape has worked hand-in-hand with only the best in the irrigation industry since day one. We select only the highest quality and technologically advanced products from trusted manufacturers to measure up to your highest standards, ensuring the top efficiency, proper water management and problem free maintenance.
We are dedicated to the conservation of water. Our goal is to provide the highest quality service by using the most advanced technology to create irrigation packages that conserve substantial amounts of water, thus providing savings for our customers.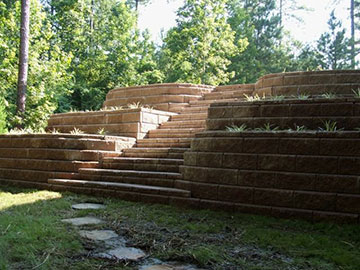 Hardscapes
Chelsea Gardens Landscape is the premiere installer of hardscape enhancements such as concrete/brick pavers and retaining walls. CGL's workers professionals pride themselves on doing only the highest quality work to ensure aesthetic appeal and functionality.
We are constantly staying up to date on new and different techniques. We would love to come to your home and see what unique ideas we can create for you! If you can dream it, we can design and install it. It is truly wonderful that on nearly every project I hear, "It looks better than I ever dreamed." Let's dream it together!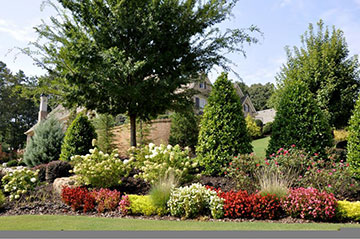 Landscape Enhancements
Chelsea Gardens Landscape maximize visual impact to enhance your site and preserve its long-term health. Our landscape professionals take a consultative approach to commercial landscape design, creating environments that fit your vision and your budget.
Whether your property needs renovation, restoration, or a complete site makeover, we deliver creative designs and coordinate installations with minimal disruption.
Our Services include:

Site assessment by a commercial landscape architect
Design and installation
Site upgrades and updates
Complete site makeovers
Long-term site planning
Accenting entrances or special features
Safety improvements
Improved site traffic flow
Tree and shrub care
Hardscape installation
Seasonal color displays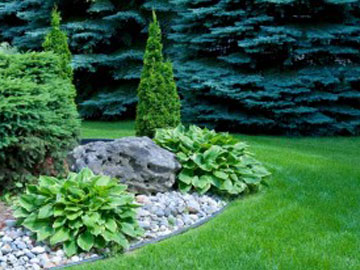 Tree / Shrub Program
The need for expert tree and shrub care often goes overlooked, but flourishing plant life adds curb appeal and adds value to any home or business. Our tree/shrub programs consists of our trained experts evaluation of the plant life on your property and devising a program that best suits their needs. This program targets insects, mites, and diseases depending on current and expected activity, as well as fertilization of the plants during the growing season. Our tree/shrub program is one of the most effective ways of protecting your valuable landscape investment!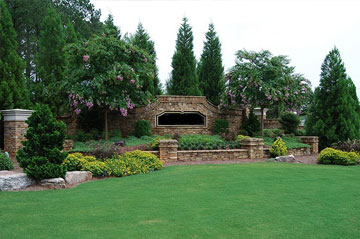 Subdivision Management
Chelsea Gardens Landscape provides professional landscape maintenance services to residential and homeowner association properties. Our landscape maintenance program will enhance your landscape investment and is designed to change as the landscape matures. We understand that landscaping is an ever changing environment that requires constant care to achieve maximum potential. We work closely with you to specify a maintenance program suited for your specific needs. Enhancements such as seasonal color, night lighting, and renovations are available to change the look of an existing landscape.
If you would like to learn more about what Chelsea Gardens Landscape can do for you, please contact us today at 770.822.1363.